Shelby County 4-H Clubs
See Below for club details
Clover Buds
Clover Buds is a club designed for 5-8 year olds who are interested in seeing what 4-H is all about!  We will explore different areas of what 4-H has to offer, including crafts, outdoor fun, and other super fun projects & learning activities.
Upcoming Meetings:
September 28th, 6 p.m.
October 26th, 6p.m.
Shelby County 4-H Dairy Club
The Shelby County 4-H Dairy Club is a group of 4-Hers, parents and volunteers that share an interest in owning, caring for and/or showing Dairy Cattle.  Through educational club meetings, members learn information they need to successfully raise and show dairy animals.
The Dairy Club provides opportunities for members to attend educational field trips and participate in activities to promote the dairy industry. 
If you are interested in joining the Dairy Club, call the Extension Office to get their next meeting date.
Upcoming Meetings:
September 18th, 6:30 p.m.
October 16th, 6:30 p.m.
Equus Horse Club
Meets every 1st and 3rd Saturday of the month at the Adult Leader's Farm at 10:00 a.m.  Contact Extension Office for more details.
Shelby County Fur & Feathers 4-H Club
More and more 4-Hers are raising chickens and rabbits for their livestock projects. Chickens and rabbits can be kept in small spaces, do not require a substantial financial investment and are easily handled by nearly anyone. Shelby County's 4-H Fur & Feathers Club is for 4-Hers who want to learn how to properly care for their chickens and rabbits. While the focus is on proper care, some members also show their animals at county and state fairs. Over the years, Shelby County 4-Hers have won hundreds of ribbons and trophies showing their animals.  Fur & Feathers meet on the second Monday of every month. We meet at 6:30 p.m. at the Extension office. For more information, contact the Shelby County Extension Office
Upcoming Meetings:
September 18th, 6:30 p.m.
October 16th, 6:30 p.m.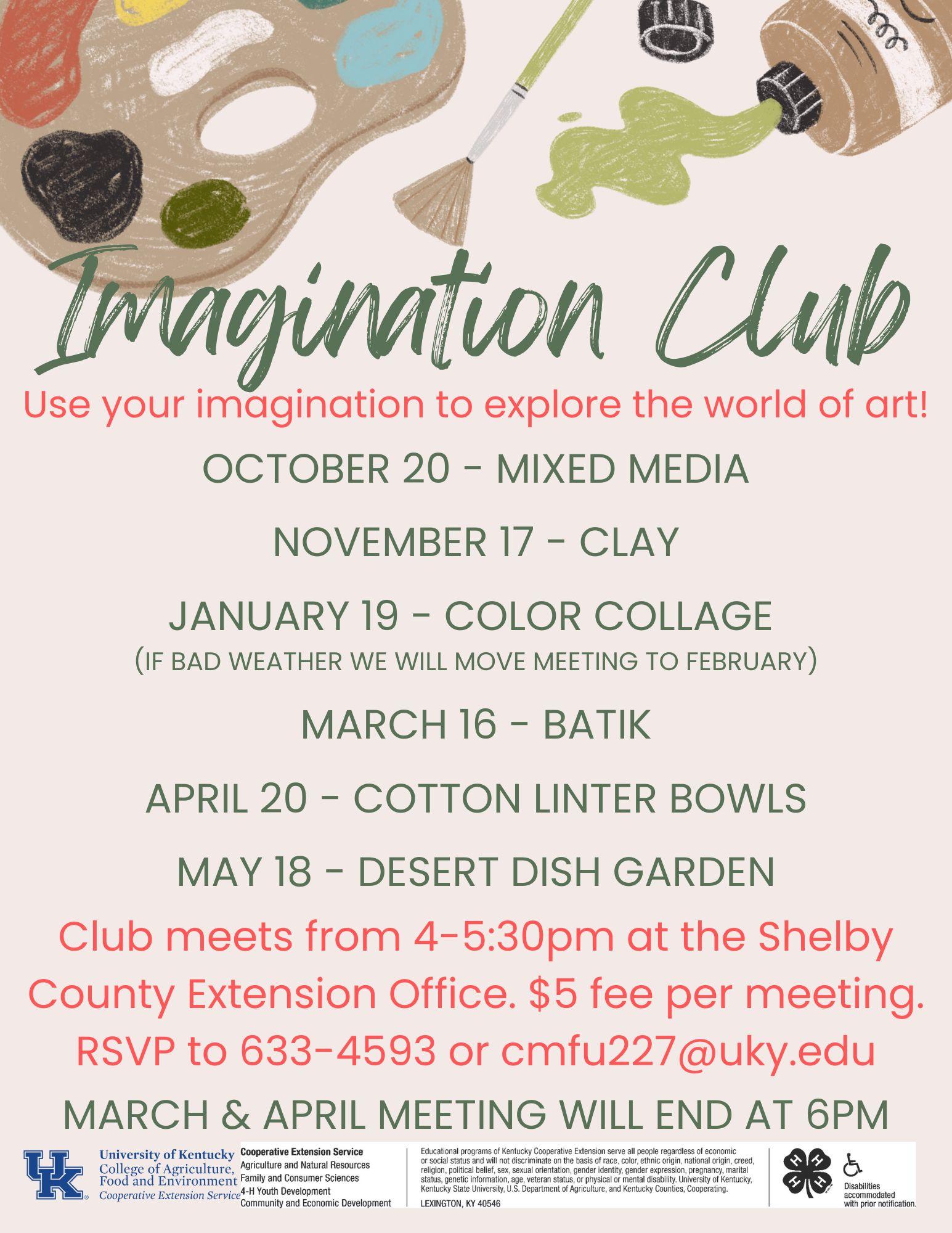 Upcoming Meetings:
April 20th, 4-6 p.m.
May 18th, 4-6 p.m.
 The Shelby County 4-H Livestock Club is a group of dedicated volunteer leaders and members, whose main focus is on helping young people learn about livestock.  Whether you are interested in cattle, sheep, hogs, or goats, we have members who share the same interests and can help you with your project. We meet every second Monday of the month at 7 p.m.
 x
If you're not sure you want to take the plunge yet and buy an animal to exhibit, no problem, feel free to come to a livestock club meeting and talk to someone who can answer any questions you may have. Also, if you feel like you don't know where to start with a project, there are plenty of us who have been there and would be happy to help you get started and answer questions along the way.
Upcoming Meetings:
September 11th, 7 p.m.
Breeding Animal Nomination Forms
Exhibitors with a Breeding Animal Project MUST fill out the online Qualtrics from by June 1 at 11:59 p.m. EST. The process for completeing is outlined in the above 202 Ownership/Possession/Care Rules. 
Any 4-H or FFA member who does not complete the breeding nomination form for their respected animal(s) is ineligible to compete at the Kentucky State Fair. There will be no late entries accepted on breeding animal nomination forms.
Beef Cattle Breeding Nomination Form
Sheep Breeding Nomination Form
Swine Breeding Nomination Form
NEW!! 
2022 Shelby County 4-H Feeder Calf Project
This project is open to Shelby County 4-H members who would like to show a feeder calf. Please note: This is a Shelby County Project. There are currently no state sponsored shows for feeder calves. 
Livestock Project Information Sheets
For more information please visit the State 4-H and Youth Livestock Project Website or contact the Shelby County Extension Office (502) 633-4593.
Livestock Judging teaches the basics of meat animal evaluation, breed identification, and EPD's and performance data.  Team members learn to compare and rank classes of livestock and then to defend their decisions with oral reasons.
Livestock Judging practices will begin March 13th from 4-6 p.m. and continue each Monday after until the state contest.
For more information or to join the team contact the Extension Office.
Upcoming Meetings:
September 14th, 7 p.m.
October 19th 7 p.m.
Welcome to Shelby County 4-H Shooting Sports!
This club includes archery, riflery, pistol, shotgun & now black powder. 
For more information about the Shelby County Shooting Sports Club and when they meet please visit their website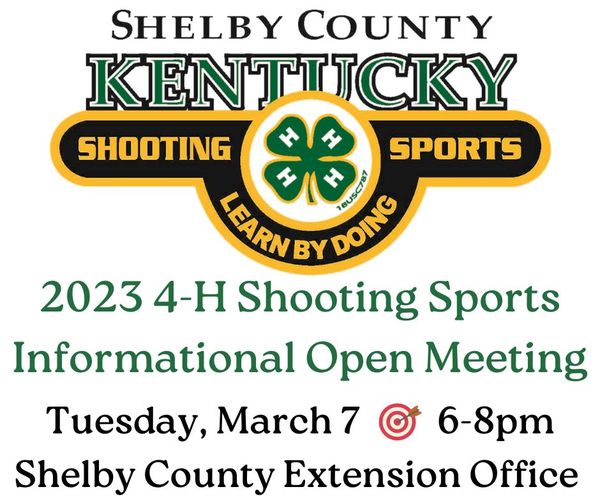 Shelby County 4-H Teen Council is an organization that engages members in personal and team building activites and events. Members will participate in various community service and fundraising projects throughout the year. Opportunities for teen trips will also be available to Teen Council members. Through participation in Teen Council, members will have the opportunity to grow as a leader, develop communication skills, work in a team environment and gain self-confidence, motivation and organizational skills.  Teen Council is open to Shelby County youth in grades 9-12.
The Zappy Zippers 4-H Sewing Club meets every SECOND Tuesday of the month (unless otherwise noted) at the Shelby County Extension Office from 4-6 p.m. Participants MUST have prior sewing experience and be able to use a sewing machine independently to attend club meetings. We recommend 4-Hers attend the Beginner Sewing Workshop in the spring before attending Zappy Zipper meetings.
See the Zappy Zipper Meeting & Project Calendar below for more information on projects for each month. 
Supplies will be provided for meetings unless otherwise notes. Participants are expected to bring a sewing kit with them. Sewing kits should include: fabric scissors, straight pins, pin cushion, hand needles, tape measure, seam guage, thread (white/variety), seam ripper and a water soluble marking pencil. 
Upcoming Meetings:
September 12th, 4-6 p.m.
October 10th 4-6 p.m.
The 4-H Livestock Skillathon Team will begin practices September 27.
4-H Livestock Skillathon provides framework for youth to learn a variety of topics related to the production of beef cattle, meat goats, sheep and swine. Participants will use knowledge gained from the practices during the state contest. 
Skillathon Practices will be held on Wednesdays from 4-6 p.m. at the Extension Office.  Practices will continue until the State Contest in  February.  Interested 4-H'ers should contact Candice at the Extension Office for more information and a practice schedule.